Keep Bondi SAFE: Ban the Barn (again!)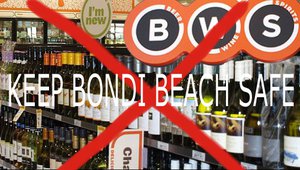 Over 2,000 objections (300 from this site in 3 days!) to the Swiss Grand's proposed 24 hour discount liquor barn STOPPED IT in 2013.
Now they're back AGAIN!!
This time, Woolworths are trying again by coming in through a back door loophole. THE POLICE ARE FULLY OPPOSED TO THIS LIQUOR BARN AND WE WANT TO SUPPORT THEM. A liquor barn will increase alcohol-related aggression on our beach - this is not what our community needs.
We have 2 opportunites to object : THE FIRST ONE is NOW to Back Schwartz Vaughan, Lawyers, who have sent out a Notice of Intention. The second one will be with the Office of Liquor, Gaming and Racing (OLGR).
Send the lawyers a quick email below and let's keep Bondi Safe for ALL.
Email your Objections!
By emailing your objections NOW to the lawyers who sent out the Notice of Intention, we get two shots at objecting to this blatant second attempt to get a liquor store ALREADY STOPPED by the local community, the Police and Waverley Council when they tried the first time.
This first lot of objections must accompany Woolworth's Application for a Liquor store when it is lodged with the Office of Liquor Gaming and Racing (OLGR).
Once the Application is lodged we get our second shot!